Contents
__________________________________
Holiday Party for Homeless Women
In December the Members of the Committee on Homeless Women and Children hosted the annual holiday party for homeless women at the Georgia Travis Center in San Jose. A hot meal started the festivities, and then the women unwrapped their presents (4 gifts for each woman) which included such welcome items as warm hoodies, scarves and gloves. Finally the women selected jewelry from the items left after last year's English Tea. This is a huge treat for all of the women. Thank you to everyone who donated gifts for the women, helped wrap the packages, or helped prepare and serve the dinner. Your generosity certainly "made the season bright" for these women.
–Marlene Lamb, Committee on Homeless Women and Children
__________________________________
English Tea
A primary fundraiser for the Homeless Women and Children as well as the local scholarships is the English Tea.  This year, the English Tea is planned for April 21.  SAVE THE DATE.  Details are in the English Tea Flyer.
Here are some highlights from past teas:
2014 – A typical place setting
2013 – It was all about the "Hats"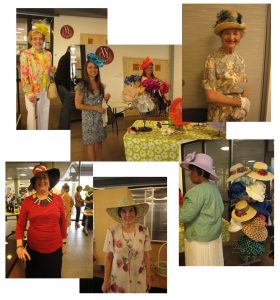 … and jewelry sales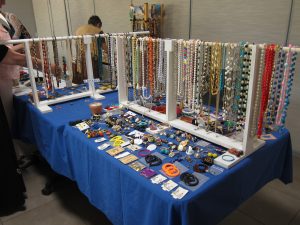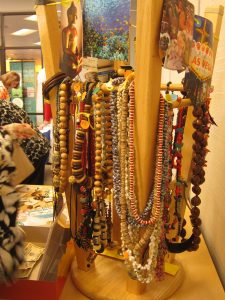 … and the Silent Auction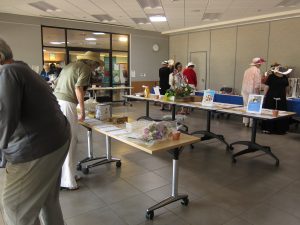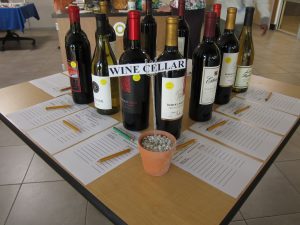 __________________________________
English Tea – Time to get your tickets!
"Hopping into Spring" English Tea and Silent (and Live) Auction April 21
It is not too soon to buy your tickets for our major event of the year. This year we are adding a live auction for some of our top items which we will have more information about in a later newsletter.  Our auctioneer is our own Cynthia Miller who is also our Tech Trek chair.
We only have about 142 tickets to sell (we make room for our honored guests and speakers), so speak to your friends and make your reservations soon to members of the Homeless Committee who are listed below.
We never know if each Tea might be the last one, (we aren't getting any younger) ,and so we need you to come with a view to opening your pocketbooks in support of scholarships and all the agencies we support on behalf of homeless women.
These ladies received tickets to sell today and more will get them later:
Nancy Anderson
Judy Borlase
Sharon Graham
Pat Khan
Marlene Lamb
JoAn Lambert
Julie Stevens
Kerstin Stone
Sumi Tanabe
And, of course, Ann Roberts, who is handling reservations for the event. We hope to see you all at the Tea.
Your Homeless Committee