Contents
_________________________________
Dazzle and Dahlias
This program will be the primary fundraiser for the Committee on Homeless Women and Children.   Pictures of the event are posted on the "Activities" page.  Thanks to all who helped make this event successful!
__________________________________
Holiday Party for Homeless Women
In December the Members of the Committee on Homeless Women and Children hosted the annual holiday party for homeless women at the Georgia Travis Center in San Jose. A hot meal started the festivities, and then the women unwrapped their presents (4 gifts for each woman) which included such welcome items as warm hoodies, scarves and gloves. Finally the women selected jewelry from the items left after last year's English Tea. This is a huge treat for all of the women. Thank you to everyone who donated gifts for the women, helped wrap the packages, or helped prepare and serve the dinner. Your generosity certainly "made the season bright" for these women.
–Marlene Lamb, Committee on Homeless Women and Children
__________________________________
English Tea
In past years, the English Tea has been a primary fundraiser for the Homeless Women and Children as well as the local scholarship committees.  There is no tea planned for 2020.  Instead the Homeless Committee will host the "Dazzle and Dahlias" function.  Please refer to the Dazzle and Dahlias flyer.
Here are some highlights from past teas:
2014 – A typical place setting
2013 – It was all about the "Hats"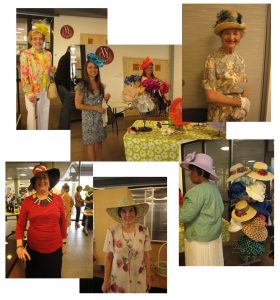 … and jewelry sales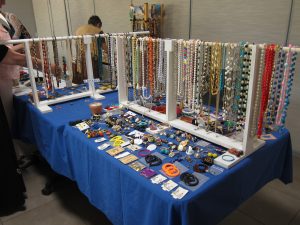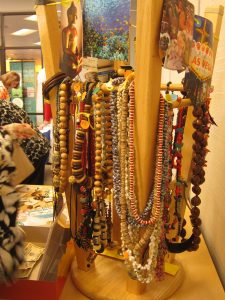 … and the Silent Auction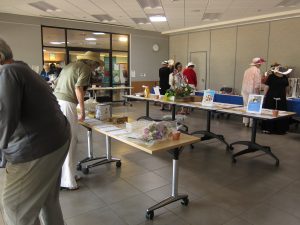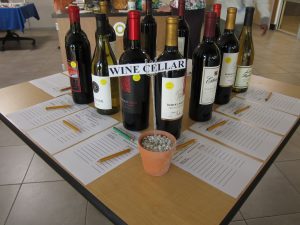 __________________________________