Page was updated 6/20/18
Many thanks to Judy Borlase, the Committee on Homeless Women, and the Local Scholarship committee for planning and executing this fabulous event!
Thanks also to Sumi Tanabe, who was our Mistress of Ceremonies for the event.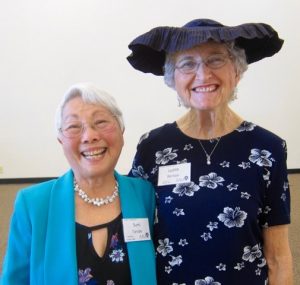 Take a look at some photos from the English Tea!  Thanks to Louise Quenon and Wanda Alexander for the photography.
Note:, if I missed a name or got one wrong, please send me email .  I'll fix up the  formatting and add the rest of the photos as I get time, but thought you would all like to see these!  Laurie
The Food
Don't these pictures make you hungry all over again?
​
The Table Centerpieces
Here are just a few of the lovely centerpieces.  There were little bunnies made from washcloths on each table with the arrangement!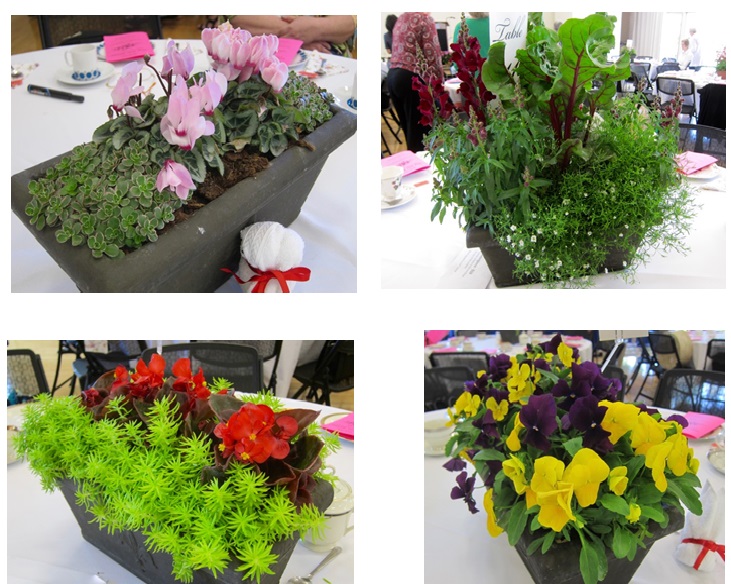 The Entertainment
The entertainment was the "Fourmatas" group (did I spell that right? I'm guessing it's a play on the musical term)   from the Sweet Adelines.  They serenaded us with
Boogie Woogie Bugle Boy
When I Fall in Love
Ain't He Sweet!
And here's a link to the Mission Valley Chorus website, just in case you would like to sing!  We're all invited.
Live Auction
The live auction was very exciting.  Cynthia Miller was our auctioneer.
Claire Campodonico purchased the weekend in Santa Cruz.
Lydia Montano got the condo in the wine country.
We also auctioned off an evening with the Saratoga firefighters.
Jewelry Sales
Silent Auction
Many business donated items for the Silent Auction.  Be sure and thank them!
Shots of the Room
Just a few photos of the room and the lovely table settings!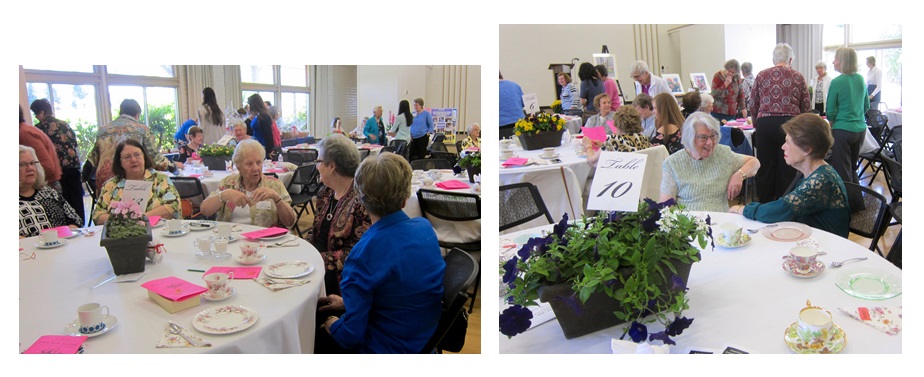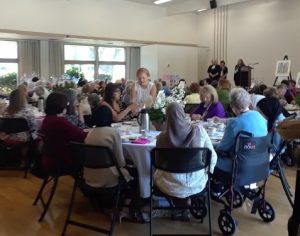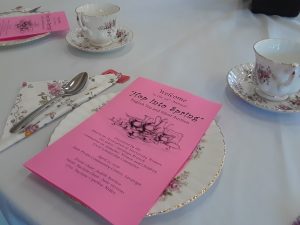 People you may Know!
The formatting in this section is a bit odd – I'll try and fix it, but wanted to share the photos anyway.  Laurie
**  Just a note about Sumi Tanabe's friend, Lillian Kanzaki,  in the picture above:  Lillian has supported the English Tea for over 16 years, participating by purchasing many of our silent auction items.  This year, she also donated 4 bottles of wine for the auction!