See what we've been up to lately!
Dazzle and Dahlias – Fundraiser for Committee on Homeless Women and Children
The Dazzle and Dahlias event was held on Saturday, September 21 at the Immanuel Lutheran Church in Saratoga. This Committee on Homeless Women and Children supports several worthy causes including:
<To be added>
The beautiful dahlias were provided by Nancy Anderson from her own garden.  Here are just a couple of the arrangements.   The youngest person at each table was the lucky recipient of the centerpiece at that table!
Members of the Committee on Homeless Women and children made all of the tea sandwiches and cookies.  They were not only pretty, but very tasty!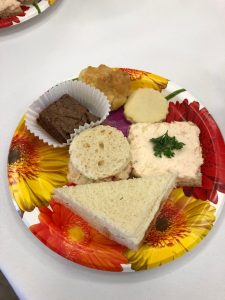 Unfortunately, Nancy was not able to be at the program, so we had some wonderful "impromptu" entertainment.
Marlene Lamb's granddaughter (who was also helping in the kitchen) stepped out to belt out a couple of torch songs including "Dream a Little Dream of Me".  What a treat!
Were also entertained by Audrey Christensen,  reciting a poem she had written about "Grandmothers".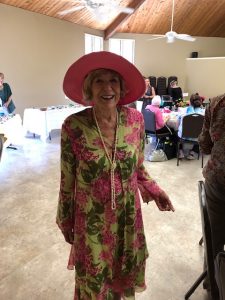 Of course the jewelry tables provided shopping fun!  Here are just a few highlights
It was a lovely afternoon!  Didn't you enjoy all of the hats!   Here are a few pictures of the tables.  (Sorry if some of you were missed in the pictures!)
Erma Bombeck: By Your Side
The Palo Alto AAUW sponsored a Living History program at the Palo Alto Art Center on May 18, 2019. Susan Marie Frontczak performed as Erma Bombeck. Susan has 25 years of experience in researching, writing and performing in various roles, including Eleanor Roosevelt and Marie Curie. For more details about Susan's work, please refer to her website at storysmith.org.
The Erma Bombeck presentation was very funny as well as educational.    Here are a couple of pictures from the event, compliments of Mara Otlans: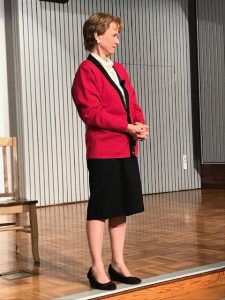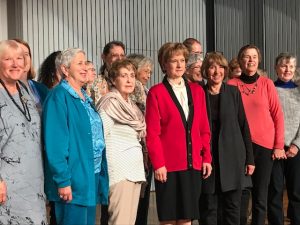 "I always had a dream that when I am asked to give an accounting of my life to a higher court, it will go like this:  'So, empty your pockets.  What have you got left of your life?  Any dreams that were unfulfilled?  Any unused talent that we gave you when you were born that you still have left?  Any unsaid compliments or bits of love that you haven't spread around?'  And I will answer, 'I've nothing to return.  I spent everything you gave me.  I'm as naked as the day I was born.'"
– Erma Bombeck
Authors Lunch, January 31, 2019
The authors lunch on January 31, 2019 featured three local authors:  CW Gortner,  Ellison Cooper, and Linda Lambert.
The even was held at the Terraces in Los Gatos.  Here are some photo highlights of the event.  Many thanks to photographers Arleen Picket and Louise Quenon.
Kay Duffy generously donated her beautiful artwork at a substantial discount with proceeds donated to the ISPF.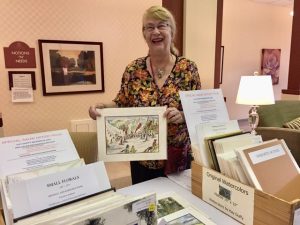 The following are some photos of the room and people attending the event.  (The captions will be updated once the members are all identified)
Womens March 2019
On January 19, women in San Jose joined other women throughout the country in theThird Annual Women's March.  The local AAUW groups were well represented.  Here are a few photos taken at the march: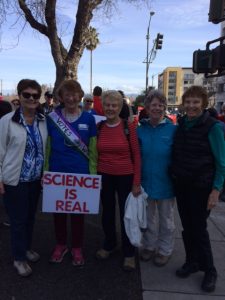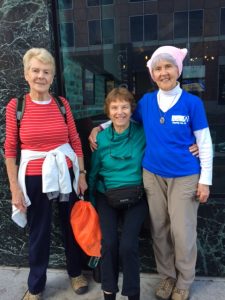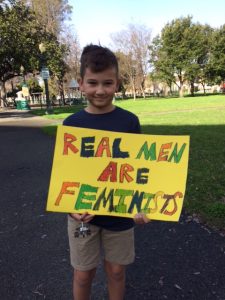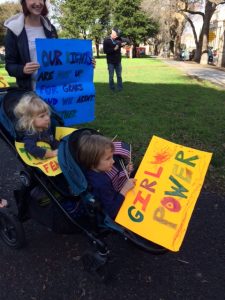 Thanks to Carol Fitting for providing these photos.
Fall 2018 Branch Meeting At The Terraces
Our fall meeting was held at the Terraces in Los Gatos.  Since this was a chance to get a photo of a large number of members, notice the new  header photo on our website home page!  The picture on the home page was cropped from this one: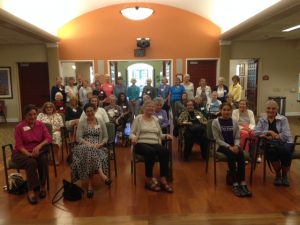 We heard from each of the Interest groups, so be sure and get in touch with any you are interested in.  Refer to the Interest group main page for basic information and contacts.
We were privileged to hear from several of the Tech Trek campers  and to see one of the projects they worked on – a windmill constructed entirely from newspaper and masking tape: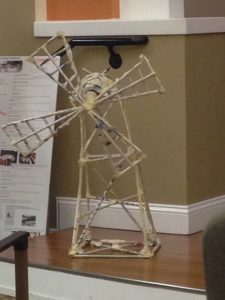 And in case anyone was curious about why they used triangles,  here's a link that explains it.
The Tech Trek girls shared a little about their experiences in the dorms and working on projects.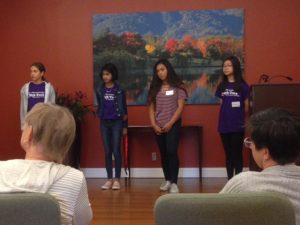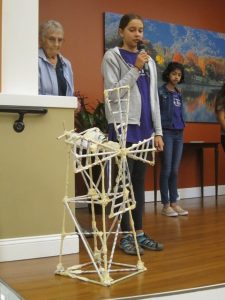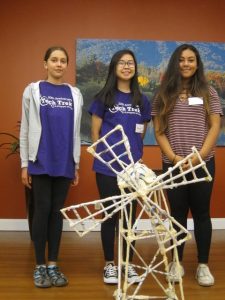 After taking questions from the audience, Cynthia Miller (Co-director of Tech Trek) asked the girls questions about the experience.  Louse Quenon also talked about the "Mad City Money" game they played to learn more about budgeting.
The jewelry tables are always a popular event.  The proceeds are used to help fund several projects for homeless women.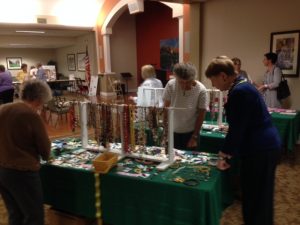 Summer Potluck Meeting
On July 24, we held our summer potluck meeting.  New officers were introduced (Please refer to the updated Branch Leaders page.)
In addition, two of our members were honored for the work on the Local Scholarship Committee and other contributions.
Faces of Genocide
The "Faces of Genocide" was held on April 12, at West Valley Campus.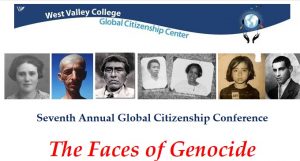 The Faces of Genocide conference and Social Justice Fair on April 12.  Contact Marilyn Fuller.
See some photos from the Conference at this link.
Our own Marilyn Fuller represented us at the conference: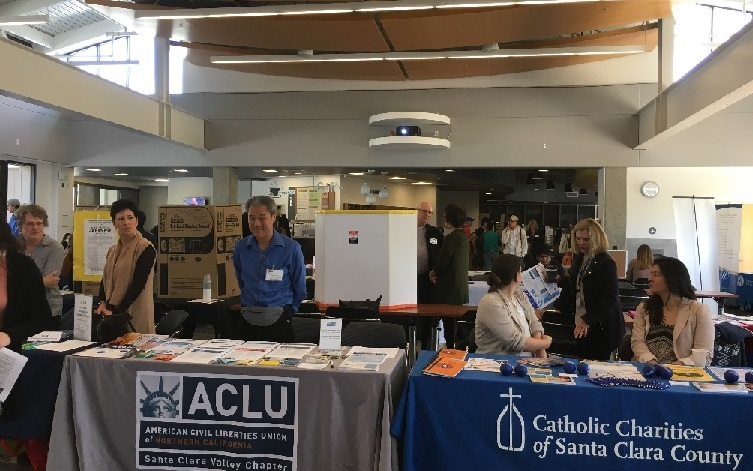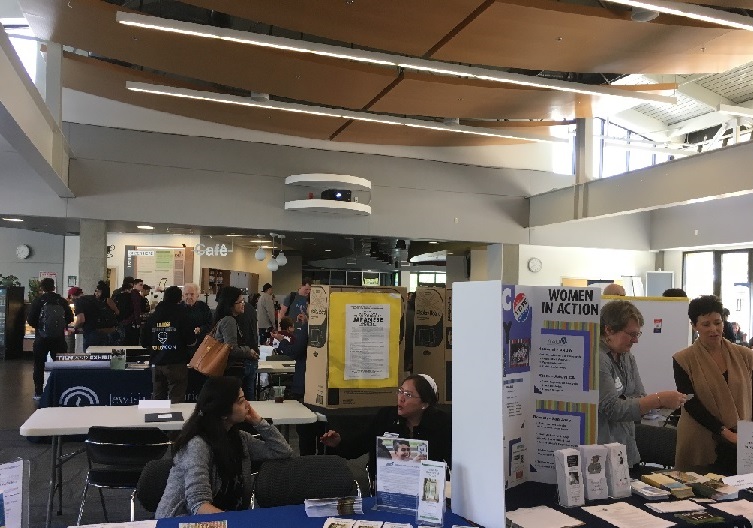 Women and World War II
This event featured a presentation by Dr. Bonnie Morris (pictured below).  We had good crowd for the event!
History of Activities