Your Leaders:   Kay Duffy 1-408-867-0508 & Jane Bishop 1-408-356-7796
Meet in Saratoga's Argonaut Center promptly at 9AM
We have an adventure and exercise every 2nd and 4th Thursday, walking 5-6 miles, visiting our beautiful area parks and open spaces.  Join us for exercise, companionship, fun and good food!
Carpool meets in Los Gatos or Saratoga.  To print out a detailed schedule of hikes and walks for the year, please click on the link below and print a copy of the .pdf file.
Thursday, May 9, 2019.  Here are a couple of photos of the Nola Iris Garden and some Llamas (or Apacas?) that we visited along the way.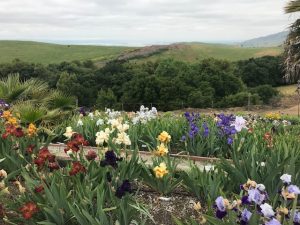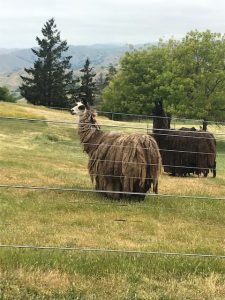 Thursday,  July 26, 2019 found us at Montalvo (link to hikes).  The small group can be seen here on the porte cochere of the Villa Montalvo.
On Thursday , July 12 ,we visited the lazy elephant seals at Ano Nuevo.  It was beautiful and cool.  Afterwards we made a visit to  Pie Ranch organic farm and, of course, we had to have lemon pie for lunch!  (Note, the Pie Ranch link is a little slow – be patient).
Last month, the hiking group took a walk in Garrod Ranch.  We were captivated by these horses, and so the group took pictures and sent them to Kay.  You never know what inspiration you may find on one of these adventures!
On June 28, we had a wonderful (free day for old folks)  visiting the animals at the Happy Hollow Zoo in San Jose.  It's a fabulous zoo with wonderful creatures.  Some of our gang rode the wild animal merri-go-round.